Jody Hartstone - Retraining the OTTB - Trot and Canter Work

OTTB, trot , canter, indirect turn

Jody Hartstone - Retraining the OTTB - Controlling the Walk

OTTB, ex racehorse, walk, young horse, turn, relaxation, stretch, rein aid

Jody Hartstone - Retraining the OTTB - Groundwork

OTTB, ground work, groundwork
Jody Hartstone - NZL
Jody Hartstone brings her Eventing and top level Dressage experience to EventingTrainingOnline.com. Read Full Bio
Jody Hartstone grew up near the town of Raglan on New Zealand's wild West Coast. From an early age her love for horses was clearly apparent. She would put a sack over the gate or a drum to be her "pony" with a piece of twine for the "reins". Even the family dog was commandeered to be ridden. Jody's non-horsie parents John and Christine finally crumbled in to the pressure and Jody's first pony "Weething" arrived from some horsie relatives when Jody was about six.
Weething was not exactly a beginners mount and in those days nobody lead their children around on leadreins - you just rode! And Jody did. And she fell off. Many times... About the time Jody was 10 a second pony came along by the name of Aladdin's Lad. He took Jody from her pony club D test right thru to passing her B test. The local Pony Club was formed in the early 80's and Jody became an active riding member. Jumping, games and horsemastership were her favourite subjects with dressage not being so important.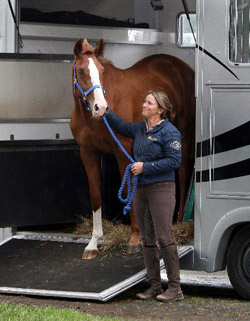 The first hack Jody went on to was Mountain Breeze, a warmblood mare by one of New Zealand's foundation warmblood sires Mt Everest. This mare was Jody's first introduction to competitive dressage and warmblood breeding but unfortunately she died when waiting at the stud to be served. However when one door closes, another opens and through the death of her precious mare Jody forged a long-lasting friendship with Mick and Sandy Fryatt from Belmont Farms in Otaki.
Through the Fryatt's Jody was able to gain the rides on two great horses that set up her career. The first was Belmont Warendorf who was a very experienced 3 star eventer whom Jody took to Pony Club Eventing and Dressage Champs. And once the gelding went home, he was replaced by the little chestnut stallion Belmont Golden Boy. It was the beginning of a new phase in Jody's riding career.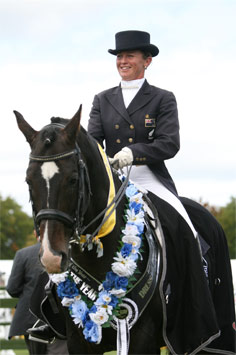 About this time Jody was attending Waikato University studying for a Bachelor of Leisure studies which she passed with flying colours. When Jody was aged 20 she sat her A and H Pony Club exams and went on to represent New Zealand in Japan at the Interpacific Pony Club exchange. It was Jody's first time riding for her country and the experience made her realise a career with horses was indeed a possibility. Aside from the honour of representing her nation, lifelong friendships were forged with the other team members. 20 years on and they are still all great mates.
Belmont Golden Boy turned out to be a phenomenal horse. Jody trained him over 6 or 7 years from Novice level right up to winning the NZ Championships at Prix St Georges / Intermediare 1 and he also won the Advanced Horse of the Year Title as his swansong. He also introduced the Hartstone family into the joys and heartbreaks of standing a stallion at stud and breeding mares.
Whilst Golden Boy was rising up through the ranks Jody spent her winters globe trotting following her passion for Three Day Event grooming and travel. As a freelance groom she was asked to groom for the Irish team at the World Championships, European Championships, and even did the Quarantine for an Irish team horse before the Sydney Olympics.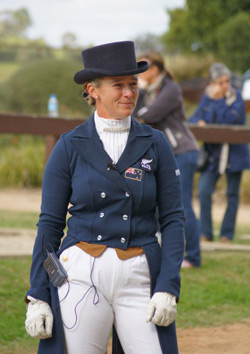 On one overseas trip a Dutch friend invited her to try a stallion she had – his name was Landioso and Jody was in love. A strong willed Grand Prix stallion with a Holsteiner pedigree of great note, Landioso was to become the first of many imported horses that came Jody's way. However he was not an easy ride and Jody would regularly despair at his antics. But if it wasn't for this tricky horse Jody would never have read the book that put her life into a brand new direction. That book was "The Truth about Horses" written by Dr Andrew Mclean.
Dr McLean became a mentor to Jody and a friend and colleague of the greatest degree. His introduction into the world of Equitation Science changed Jody from just another horse rider into an animal trainer with a great insight into the mental capacity of the horse and the training outcomes that arise from this. Suddenly her teaching was full of words like classical conditioning and habituation. And for the first time in her life Jody felt empowered as a horse rider and coach. She has never looked back since.
Other horses to have made an impact were the Dutch imported stallion Ramazotti, the beautiful Rheinlander stallion Donnerwind, the lovable Marceau from Germany and Wunderstag who Jody competed in Spain and France.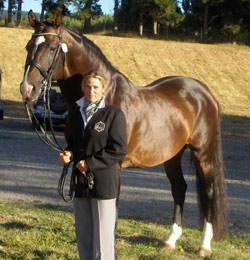 And who could forget the incredible stallion Whisper who captured Jody's heart and imagination when she first saw him in Australia. Years later he was to become hers - a real dream come true. Together they achieved in two short months what some combinations don't achieve in a lifetime of trying - taking out the NZ National Championships and the Horse of the Year Show at Grand Prix level. They went on to achieve their Certificate of Capability to ride at the World Equestrian Games in Kentucky but alas it was not to be. Whisper became incurably lame and with much sadness and heartbreak he left this world only one short year after coming into Jody's life. It was a devastating blow.
Jody picked herself up eventually and decided a change of direction was what was needed and her journey into the world of the Lusitano horse began. Jody travelled extensively throughout Spain and Portugal looking for her next dream horse. Ali Baba was there waiting for her. And so a new story began.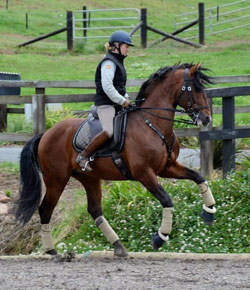 Once she had ridden Lusitano horses Jody realised she had found a new passion and the fire started burning bright again. Ali Baba is more than just a horse, he gets under your skin and into your soul. Jody has gone on to purchase two more mares from Portugal and the studfarm Cruzeiro Do Sul Lusitanos has been created - Lusitanos of the Southern Cross.
None of this could have been possible without the unrelenting support of her parents who own the farm that Jody runs her business from. In the last few years Jody has also been incredibly fortunate to have the support of Erin and Warrick Mortimer who came on board to help Jody buy Marceau, then Whisper and now own half shares in Ali Baba.
Her future with horses is certain. After 35 years of riding there has not been a second of doubt in Jody's mind that a lifetime with horses was her calling. The story continues...